The Life and Times of a Tennis Champion Named Novak Djokovic
Novak Djokovic is not a familiar sounding name to most Americans. However, if you follow men's tennis then you should already know about this tennis champion. He is currently the number 1 ranked men's tennis champion for the single's category. He is a hard competitor on the court and a great family man in private.
Let's take a look at the life and times of Novak Djokovic so you can get to know the man behind the fame, fortune and glory.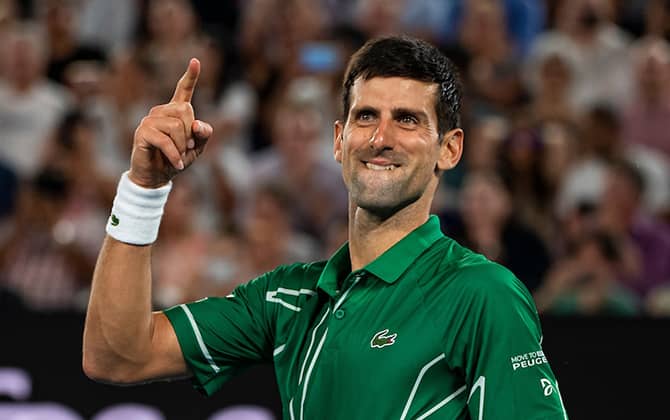 Before we talk about the routine aspects of Djokovic's life, we'll discuss some different facts about his life that might surprise you. Djokovic began playing tennis at the age of 4.
However, he liked skiing and playing football more. While it's true that most professional athletes are well rounded and often play more than one type of sports; many tennis players typically focus solely on this game. Djokovic's football and skiing ability also helps him to play tennis at a high level.
This tennis champion is also a multilingual man. He is very well educated and can speak 4 different languages. He can fluently speak Serbian, Italian, German, and English. Each of these languages helps him to communicate effectively against opponents and with other endeavors in his life. Djokovic also has a great sense of humor. Did you know that he does great impersonations of current and former tennis stars. Many people likes the way that he mimics his peers.
Well, there is a lot of good things about Djokovic but he can also be a bit odd. Did you know that eats the grass whenever he plays at Wimbledon? He says the grass has a "sweet taste". Many people also think he is odd for literally talking to himself when he plays on the court. I guess everybody has a flaw or two that is just a part of their personality.
Djokovic was introduced to tennis by his father at age 4. His dear old dad gave him a racket and the rest is history. He was age 6 in 1993 and he caught the eye of Jelena Gencic. Gencic was a Yugoslav tennis player at the time. She knows a natural player when she sees one. Djokovic was a tennis prodigy at the age 6. He just needed to have his skills honed. So, Gencic began to train the child for the next 6 years. By the time he reached age 13 he was ready to make his mark in the tennis world.
Djokovic was competing at 13 and by the time he reached 14, he was ready to play with the best tennis pros from across the globe. At age 14 he won 3 competitions in the singles, doubles, and team competition categories. The young tennis prodigy even captured a silver medal at Yugoslavia's World Junior Championship. Djokovic career was off to a meteoric rise.
While Djokovic's professional life was excelling, his personal life was also in a good place. He met his current wife during their time in high school. Don't forget that Djokovic was born in 1987. He was in high school during the early to mid-2000's.
His wife is named Jelena Ristić and they have two children named Stefan and Tara. They are wealthy people since Djokovic has a net worth of $220 million dollars. Here's another important fact about Djokovic that should not be overlooked. This man really loves helping needy children. He started the Novak Djokovic Foundation for this purpose. This organization helps a lot of kids in Serbia who have a difficult life.
Djokovic is 6' 2" tall and weighs little over 170 pounds. He has an athletic build and is known for his aggressive style of play on the court. He can return serves with power, use his fine motor skills to make soft touches and he is almost impossible to hit off the court. This tennis pro seems like he always knows where the ball is going to be and what he must do to make opponents crumble. Many tennis insiders believe that Djokovic's aggressive style of play might wear down his body in the short run. Still, his forceful style of play is hard for opponents to handle.
Tennis analysts argue that Djokovic might be one of the greatest players to have entered the sport. His acumen as a player is unrivaled by few. He is one of a few people who was able to hold all 4 major tennis titles all at once.
His work on the court and off the court has helped to propel his overall success. Djokovic could arguably be classified as the "Lebron James" of the sport of tennis. His work, success and career stats give credibly to his achievements, as a legendary tennis figure.