Novak Djokovic Prioritizes Golden Slam over Toronto Warmup
The newest information comes from one of the most popular tennis players on Earth, Novak Djokovic. As confirmed by the reporters, Djokovic decided to withdraw from the Toronto warmup event since he'd like to focus on the Golden Slam.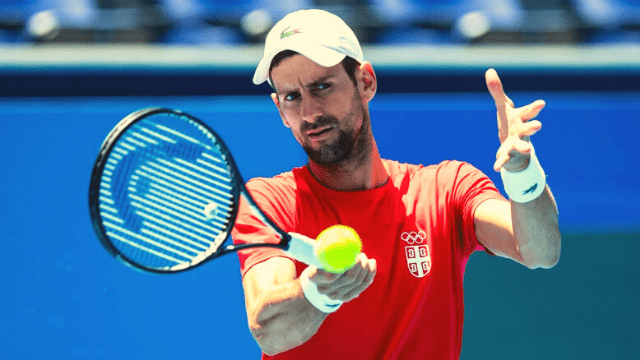 The respective sportsmen are pursuing a Golden Slam victory at all 4 Grand Slam tournaments. He has withdrawn from the US Open warmup event in Toronto.
Djokovic is working on the Tokyo Olympics competition since he is looking for the Golden Slam. An Olympic singles gold will complete all of his victories. It would be a great thing to see Djokovic in the warmup event. However, it will be a loss for the respective player if he misses the opportunity to attain a gold medal at the Olympic Games in Tokyo.
The officials understood his decision. Because of the Djokovic withdrawal, the Russian Daniil Medvedev will be the Canadian top seed for the tournament.
Novak Djokovic has won the trophy for the men's singles final at the Wimbledon Tennis Championships in London. He won a victory over Matteo Berrettini during the men's single finals that happened on Sunday, July 11, 2021.
It was his sixth Wimbledon title. Obviously, the win is a morale boost for the professional tennis player to proceed to the next challenge, the Tokyo Olympics.
The win also set the Serbian player to have 20 Grand Slams. He also matches the record number held by Rafael Nadal and Roger Federer.
Back then, reporters asked him questions about what it meant to match Nadal and Federer. And then he answered that none of them would stop competing. According to Djokovic, the latter two players were the most crucial players that he ever fought against.
Djokovic also added that those two tennis players were the reason why he was where he was that day. He then added that both men had helped him realize what it takes to be better in strength, physical, mental, and tactic.
He also stated that his significant journey began in 2011, a decade ago, although he started to play tennis long before that.
With such an achievement to match his two most powerful rivals, Djokovic is considering the Calendar Grand Slam, which he started by winning the US Open.
But it does not mean that he will be free from the next challenges. In fact, there are many players who can bluff Djokovic. For instance, Dominic Thiem, who is the reigning US Open champion, could be a potential competitor for Djokovic.
We are now looking at Djokovic, who continues his rodeo for the Golden Slam.